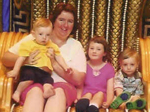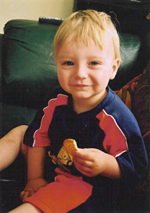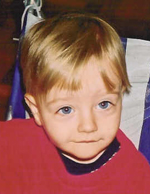 Paul Gallagher from Orpington, Kent, was killed when he was hit by a speedboat in 2002 as he sat in his chair on a beach in the Bahamas. Paul's family never got justice.Paul Gallagher
"We are in full support of Eden's Trust. We hope the trust will ensure that less fatalities and serious injuries occur while on holiday anywhere around the world. Tour operators and all other hoteliers must make the safety of tourists their number one priority. They must take full responsibility and not put profits over people's lives especially when innocent children are killed and families face a life sentence of pain and grief.
Our son little Paul was a millennium baby, he was and still is very special to all our family. He only lived for two and a half years however we are very grateful for all the wonderful times we had with Paul. He made us all laugh and also gave Andrew his younger brother and Heather his older sister lots of great times together. Times none of us will ever forget. Sadly, times we will never see again.
Little Paul was killed in the most violent of circumstances right in front of all his family on what should have been a holiday of a lifetime. We were on a Thomas Cook holiday staying at the Atlantis Resort in the Bahamas in 2002. Little Paul was resting on his chair with his family next to the Atlantis lifeguard on the Atlantis beach 30 feet away from the waters edge when an out of control high- powered speedboat crashed up onto the sand with no driver at the controls. The Atlantis lifeguards didn't give any warning at all. The boat was travelling at 40 mph. The boat travelled through the air like an aeroplane. The boat flew over Paul's head, however, the propeller split Paul's head wide open.
Unbelievable, but sadly true, the professional Atlantis life Guards watched this out-of-control boat cutting its way through hundreds of people in the water and did nothing, nothing at all. Our little boy paid the ultimate price.
This happened in August 2002, the same day as his dad's birthday.
Since this happened we have tried to work with the Bahamian Government to ensure no more innocent lives are lost and to make the beaches of the Bahamas a safer place for all children and families. But we believe that the Bahamian Government are not interested in safety, we believe they favour profits over the safety of tourists. Sea and Ski Ocean Sports, the boat owners and boat driver who now face charges relating to the death of our son in 2002, were not licensed, registered or insured. We also later found out that their boats and equipment had killed and seriously maimed other innocent people three years before little Paul was killed. For some reason the Bahamian Police never charged anyone at the time and allowed the boat company to continue to work. We also found out that in 1999 the boat company was not licensed, registered or insured.
Why were they allowed to continue working?
Since Little Paul died in 2002 there have been at least another three deaths and numerous other accidents at the same beach involving the same boat company. Sea and Ski Ocean Sports were the company involved in every occasion. This company are still working today despite many fatalities and many other incidents. In fact, for over 10 years they have never been registered, licensed or insured and are still earning millions of dollars per year. The boat driver tested positive for cannabis however this fact was withheld from the authorities.
We travelled on a Thomas Cook holiday and they have not helped the family at all. Thomas Cook have not shown any interest in our case in safety. Thomas Cook point blank refused to co-operate with the family in trying to establish what went wrong.
We cannot recommend a Thomas Cook holiday to anyone nor can we recommend the Atlantis Resort Bahamas owned by Kerzner International. Indeed Mr Sol Kerzner who owns this company will hopefully have some questions to answer to the Metropolitan Police.Paul Gallagher and his family
As a family we have been completely destroyed by the loss of little Paul. We cannot find the right words to describe our feelings although we are sure anyone who has suffered such a loss will understand how we feel. We are still fighting for justice and we pray that this never happens to anyone else. Please give as much support to Eden's Trust as possible."