Eden's Trust runs a range of fundraising and educational events to support those who have lost a child.
Barn Dance on Saturday 27 October 2018 19:30 – 22:30
Eden's Trust is hosting it's first ever Barn Dance on Saturday 27th October at the beautiful Fairlop Waters. We are teaming up with Storm in a Teacup to raise awareness and funding for our FREE counselling and bereavement support services. Help us to make this a night to remember. Tickets can be purchased from Elli (07814 550375) or Suzanne (07957 665390). Alternatively, they can be purchased via
www.edenstrust.eventbrite.co.uk
. Tickets cost only £10 or £12 at the door.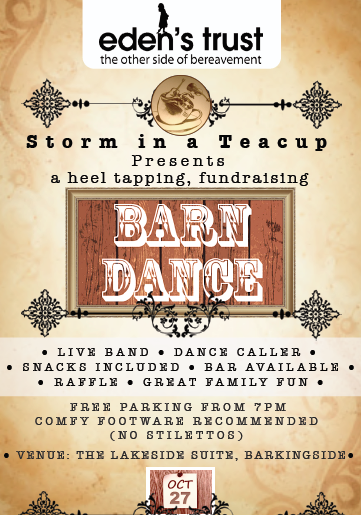 If you'd like to make a
donation
to our small charity we'd be delighted and really grateful. Or if you have an idea for fundraising and you'd like to take the initiative and organise an event or do something to help raise money for the charity, we'd love to hear from you. Simply
email
us or call Elli on
07814 550 375
. No amount raised can ever be too small - see our
Donate
page for lots of great fundraising ideas!